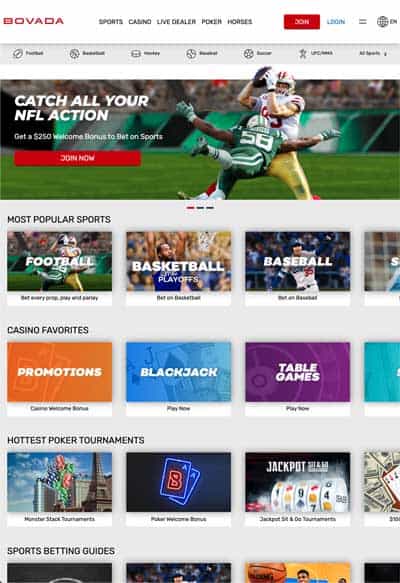 How Does MatchPay Work?
MatchPay is extremely simple to use, and this simplicity makes it perfect for nearly every sports bettor that wants to use popular and established money-transfer apps and services that aren't directly supported by offshore sportsbook sites.
You can sign up for a MatchPay account from the service's site directly, but you can also do so from any sportsbook that accepts it. We recommend going this latter route, and we will use Bovada as an example for the MatchPay signup process:
At Bovada, choose the MatchPay option from the main "Deposit" section during signup. For existing members, this can be found on the Bovada Cashier page.
Selecting MatchPay's "Join Now" option will take you to the MatchPay account creation portal.
Choose a username, input your email address, add your phone number, create a password, and submit the form by clicking or tapping "Create Account."
You will then receive a text message with a five-digit verification code. Enter this code, and then click or tap "Verify."
You will now receive an email with a different five-digit code. Enter this code on the MatchPay form as requested. This is the final step for MatchPay enrollment, which makes you a MatchPay Trader.
Once you're signed up with MatchPay (whether you've done so through your sportsbook or through the MatchPay site itself), actually using the service to make a deposit with your online betting operator is straightforward and painless. Again, we'll use Bovada as an example, since they are the first to offer MatchPay deposits:
Just head over to Bovada's banking suite, select the MatchPay option, and enter the amount of money you wish to transfer to your online betting account.
From there, you'll be redirected to the MatchPay service, which will automatically find a trader willing to transfer your requested amount from their Bovada account to yours. You'll be able to chat with the seller and work out payment details using the most popular instant-pay apps on the market, including the following:
PayPal
Venmo
Cash App
Zelle Pay
Once the transfer is agreed upon and completed, your new funds will be credited to your Bovada account in mere minutes, allowing you to legally bet on sports and enjoy other real money online casino games, poker, and horse racing betting.
PayPal Sports Betting Deposits
International sportsbooks for US customers cannot directly accept PayPal due to geographical restrictions, but by employing MatchPay, you can kick off a PayPal sportsbook deposit by purchasing part or all of another site member's balance. This allows bettors to help one another get in the game quicker, faster, and more easily than ever.
Venmo Sports Betting Deposits
There are no US-facing sports betting sites that use Venmo for deposits, but MatchPay changes all that. Now, by using the MatchPay peer-to-peer transfer service, you can enjoy Venmo sports betting by purchasing the account balance of another user at your sportsbook of choice.
Cash App Sports Betting Deposits
Cash App is used by hundreds of millions of people worldwide as an easy person-to-person banking platform. However, the best USA online sportsbooks do not support Cash App directly. MatchPay allows for customers to easily work around this restriction, making Cash App sports betting a reality.
Zelle Pay Sports Betting Deposits
We've already discussed how to use Zelle to fund your online betting account by using the popular banking service to purchase Bitcoin from LocalBitcoins.com and then send that BTC to your legal online sportsbook of choice. Now, with MatchPay, you can use Zelle to directly buy a fellow sports bettor's account balance and have that credited to your own. This is an even simpler process than the Zelle-to-Bitcoin deposit method!